Here's an article with plenty of ideas on how you can style your black sweater! Or more specifically, 10 ways you can style your black sweater. I've written this kind of article before, so make sure to check it out here and here. And without further ado, here are 10 styles to try asap: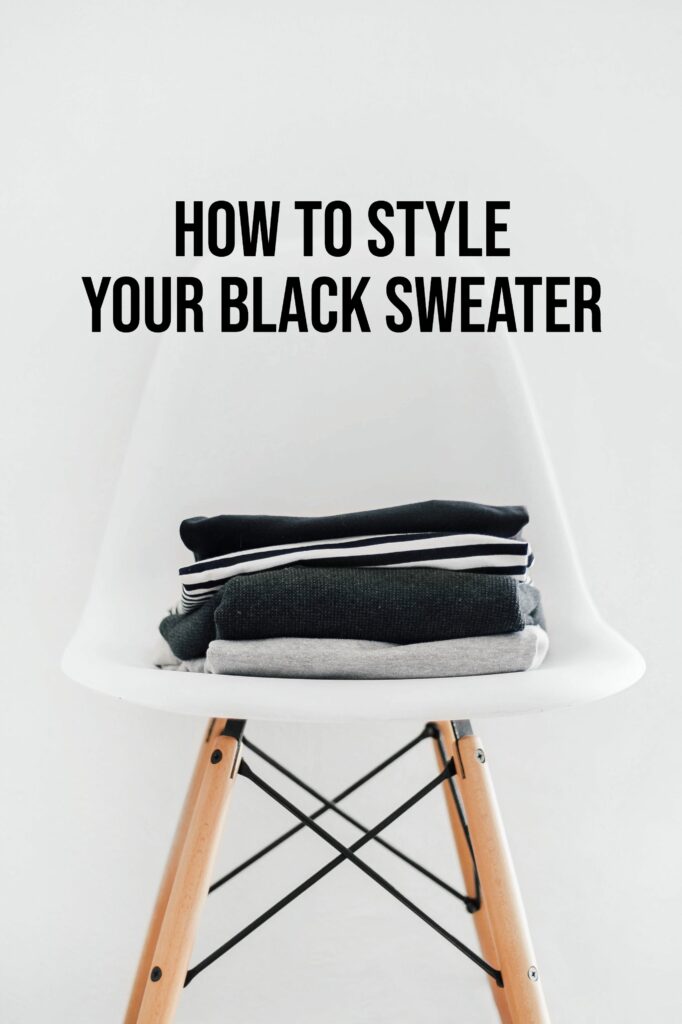 How To Style Your Black Sweater
Floral Dress
One way to wear your black sweater is to layer it with your floral dress! This works particularly well if your floral dress has some black in it. Pairing your dress with a sweater will create the illusion of a top and a skirt, and also make your outfit more interesting with the clash of knitwear and floral.
Boyfriend Jeans
Your boyfriend jeans, or mom jeans, are also a superb match with your black sweater. Go for a tucked in style, perhaps a statement belt and some fun shoes. You'll have a super chic go-to look! Go for a pair of chunky gladiators if you want a trendy look. 
Fitted Shirt
If you want to go for a layered look, choose a shirt as the first layer and your sweater over! This look is chic with a pair of cigarette pants, or why not the boyfriend jeans as mentioned above? You can go for a white one for a classic look, or why not a patterned shirt?
Patterned Skirt
And speaking of pattern, go for a sweater and patterned skirt combination! Or you can of course just go for a regular skirt, such as a denim or a silk. But love the idea of a leopard skirt with a black sweater. But! Work with what you got.
Statement Accessories
Add a colorful pair of earrings or some statement sunglasses if you want to make your black sweater more interesting. It could also be a statement necklace or just some earrings and bracelets! A nice bag or some fashionable shoes will also do, of course.
Statement Pants
The statement pants are fun, and are therefore superb with the black sweater. You'll have a nice balance of preppy and casual. Love the idea of working this duo with some slippers or chunky ballerinas!
Gold Accessories
You can also work the black sweater with gold accessories. Gold and black is always a good idea and especially when done like this. Go for some layered gold necklaces for the ultimate look!
Vest
If you own a leather vest, work it with your black sweater! You can also go for a denim vest or faux suede (work with what you got)! You can do this with a pair of leather pants or why not a stylish midi skirt? The layering look is always a fun idea!
Patent Leather
One way to mix things up a bit is to go for patent leather pants! This will give a statement look, but still be wearable as your outfit is monochromatic. You can mix this up with a colorful bag or a pair of sneakers or stylish slippers.
Statement Collar
You also have to try your black sweater with a statement collar. Such an easy way of making your sweater more interesting and preppy. There are tons of cute collars trending right now, so if you like this trend: go ahead!
Folks! How do you wear the black sweater? Let me know in the comments below! Xx