The leather jacket might be one of the most iconic and classic fashion piece of our time. Pretty sure almost every other person owns one or have had one (or several) hanging in their closets. The iconic clothing piece is especially a lovely go-to piece for fall with its layering ability and neutral style. Here's some ideas on how to wear a leather jacket fall 2017, with a touch of trend (of course).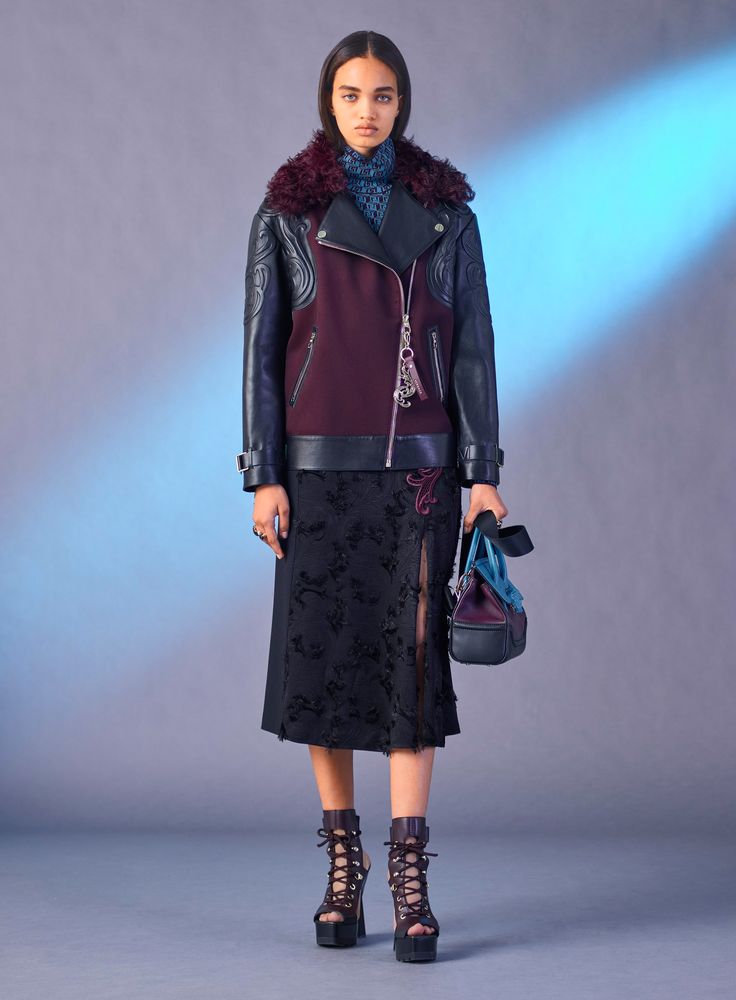 Courtsey of Versace | Pre-Fall 2017
Leather Jacket Fall 2017
1. Nautical Style
If the navy style is associated with elegance, or a refined version of it, the leather jacket is a perfect clothing piece to contrast the style with. Go for the nautical stripes and details, but add the leather jacket to create a more dynamic look. If you go for a black leather jacket, contrast it with red/white stripes for a full effect. A tan leather jacket is a perfect match with anything navy blue, I'd even say it's foolproof!
2. Keep It Layered
The layered season is, literally, a fashionable term for fall fashion and ever so true. The leather jacket in its classic style is favorable to layer clothes with. A buttoned shirt, a sweater over it and a leather jacket on top is a three layered outfit look anyone can pull off. Add a scarf if you want to go full inception with four layers.
3. Add The Denim
Two classics in combo can't create anything but another classic combo look, something the denim and leather do in combination here. A pair of jeans or a denim shirt with a leather jacket is pretty much what every other fashionista turn to when in need of a foolproof outfit. Even more fun if you go for distressed denim or a pair of 70s to elevate the look with a twist or two. I love to add a bow  whenever I work the buttoned denim shirt so it matches the leather jacket. Easy and genius!
4. Do Midi Style
The midi length is trending and is doing so big time. The perfect part about this trend is that it works well with leather jackets. Preferably leather jackets that are more cropped as it creates a nice balance in the silhouette. The midi lengths are often done by dresses or skirts which is another reason to contrast with a leather jacket to add some balance.
5. Buttoned Shirt
I already mentioned this hack in number 2,  but it's too good not to get its own number. A buttoned shirt is perfect to go for under the leather jacket. Not only is it viewable if you keep the jacket closed, it's also a basic piece to layer with. Go for a crispy white shirt or a denim shirt to keep it classic. Add a hat to give the look some structure.
6. Lace and Leather
If leather is rough and edgy, lace is delicate and refined. Conclusion? These two in combination are kind of too good to ignore. A nice lace top or dress is fun to match with a leather jacket as it creates a contrast between the statement textures. As the match is so perfect, I love to break it off with a third unexpected element, a leo clutch or a colorful makeup look will surely do.
7. 70s Style
It's already a fact that the 70s jeans are favorable to match with a leather jacket. But the rest of the 70s style works with the leather jacket too. I'm talking the boho style with its flowy prints, silhouettes and clothes. The structured leather jacket balances the maxi dresses, crochet textures and lively patterns. Go for a paisley jumpsuit and balance it with the leather.
8. Knitted Turtleneck
This one is for all of us with a deep love for fall. A knitted turtleneck is a must when going for the leather jacket. The knitted texture is soft and cozy which creates a balance with the leather material. Go for a red one if you want to keep it trendy for fall 2017!
9. Add A Top Layer
If your leather jacket is on the thinner side, you can easily add a top layer to it. A vest or an oversized coat will not only keep you warm but also be a fun element. I talked about this styling hack last year and you seemed to enjoy it, so why not share it again. Just remember that this works mainly with a thin and defined leather jacket as it avoids the bulkiness.
10. Contrast Texture
I've already hinted about using contrasting textures to pair with leather. Lace, knitwear, denim or whatever you prefer is a great way of creating some tension in an outfit. Faux fur and faux suede will also do the job to create an interesting balance.
Folks! How do you work the leather jacket fall 2017? Are you going full on statement or is it your true go-to piece? Drop a comment below! Xx