Folks, continuing the wardrobe staples series 2018 it's time for a more "bold" edition. Not that my suggestions are that much of a statement but not the most subtle staples either! Catch part 1 of the wardrobe staples 2018 here and catch part 2 here. Here's part 3 at your service: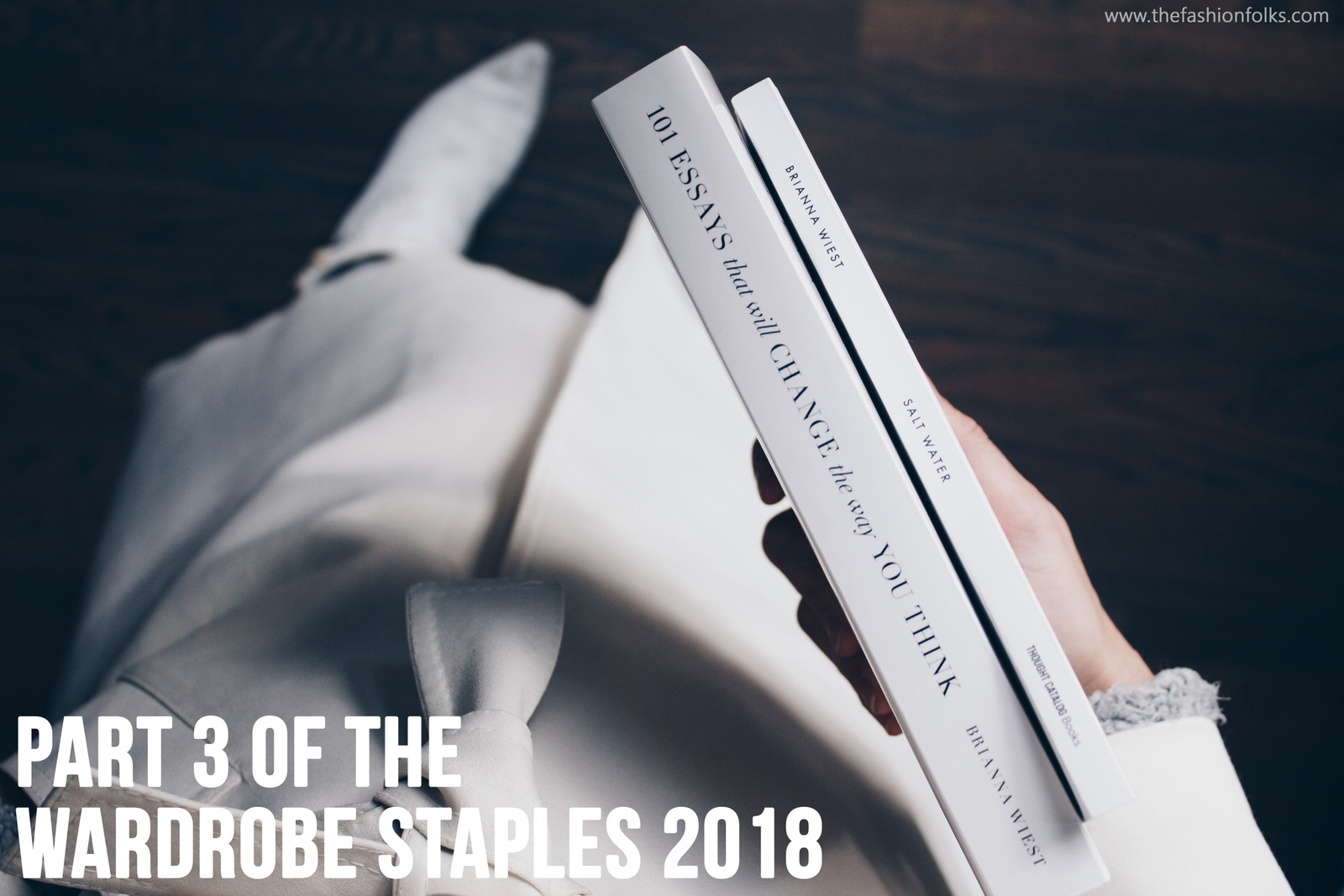 Photo by Thought Catalog on Unsplash
Wardrobe Staples 2018 – Part 3
A Floral Midi Dress
Perhaps one of the most beloved and trendiest clothing pieces of the last season. And with all right, the floral midi dress is a perfect balance of being wearable, style-friendly and stylish. It adds the energy with the print, the casualness with the flowy style and wearability with the simplicity. Once you've put on your floral midi dress, there's not much styling to do. Perhaps a jacket to layer with and definitely a pair of shoes, but that's about it. If there's one thing beloved clothing pieces have in common, it's that they're easy to style! The only thing you should think about is that the midi length can cut your legs short, but go for a neutral pair of shoes as in a subtle color or that they're open (sandals, ballerinas etc). A pair of heels will also do, of course. You can also just ignore this fact and embrace the edge with a pair of boots! Anyways, I think the floral midi dress is a great go-to clothing piece and deserves a place in your closet!
Pantsuit
Another go-to piece I think everyone should have in their wardrobe is the pantsuit. I've talked about it a lot the past weeks, catch the #Trendalert here, but  I think it needs a reminder. A pantsuit works the same way a jumpsuit does, kind of. You have a full outfit that's ready to go whenever you are. Pick a classic one in either black or blue, or dare to go more bold with a red or a purple one. As I've talked about before, the pantsuit is great when you want to dress something up or down. Do it either by a blouse or a t-shirt! I also mentioned a pantsuit outfit in my article on 50 fashion ideas to try spring 2018!
Loose Jeans
Denim might be an informal material as it is, but you can take it even more casual by going for a loose style. I think this style of jeans, often done as boyfriend jeans or mom jeans, are neutral enough to work with anything your regular jeans goes with. You can favorably contrast the casual style with a preppy blouse or embody it with a t-shirt. It's perfect when you're running errands or you just want to go a bit 90s. Do it either with sneakers for the street style vibe or heels to go more balanced. If you dislike jeans, as they can be quite uncomfy with the tight style, this style of jeans are worth a try!
A Fedora Hat
Perhaps hats aren't for everyone, but if you're a hat lover, working the fedora hat is a must. The simple style of the hat makes it neutral enough to go with a lot of outfits when a hat is appropriate. The structured shape also adds some balance to an outfit if you're working a flowy silhouette or boho print. The hat is also quite functional when spring arrives as it protects your scalp from the sun, as well as your face. Go for one in black to stay fully neutral or go for one in a color you prefer!
White Shirt
A basic clothing piece that's universally worn by everyone is the white shirt. It's perhaps a bit more formal than casual, but undoubtedly a piece that's quite common at work places and when in need of a more preppy style. The structure of the white shirt adds a formal vibe which makes it great to choose when the occasion is more arranged. I do think the white shirt is great however to pair with more informal clothing pieces as it creates a nice balance. Why not try the white shirt with the loose jeans to work a nice outfit of contrasts. Don't really think I need to say something about the neutrality of the color white, it works with anything, especially with red! If you want to create a more informal style with the white shirt, roll up the sleeves and unbutton a few buttons!
Knitted Sweater Dress
The sweater dress is honestly my go-to choice of clothing piece when I want something relaxed. The cosy feeling of the knitwear definitely helps, but also the idea of wearing the sweater as a dress (oh, just be sure that it's long enough to be considered a dress). This piece can definitely be worn outside the home if you balance it with more preppy clothing pieces as the cigarette pants or perhaps faux leather leggings. It's the most obvious go-to when you're wearing leggings, and also a great piece to layer with during the colder months. Go for a sweater dress in a color you prefer and you'll have a new friend!
Flannel Shirt
Perhaps there's no clothing piece that's more associated with the hipster style than the flannel shirt. It's also a piece that's connected with fall and perhaps the Holiday season too. I think however that the flannel shirt is a neutral way of working colors and prints in one clothing piece. They are that common that they don't make that much of a statement and they're relatively easy to match. Go for a color combination you enjoy and you have a new way of wearing colors without thinking too much about it. Tuck it in your jeans or layer it with a vest! Don't forget to balance the color by matching it with some accessories!
White Jeans
If you only want one clothing piece that embodies the definition of "fresh", the white jeans are your choice. First of all, enough said about the jeans as they are one of the most neutral clothing pieces you can wear. But going for the white style will open up an endless amount of styling options for you as you'll have an obvious go to piece when you need to work the brighter shades. You see, sometimes when you're wearing colors, or a statement print, matching it with black will be too much of a heavy contrast. Especially if the print has a lot of white in it or other bright shades. Instead, the white jeans will ease the outfit and make it look more coherent. They are  painful to keep free from dirt though, but indeed a staple that will help your wardrobe!
A Flowy Maxi Dress
One clothing piece that's a must for summer is the flowy maxi dress. It's perfect for beach time when you want to wear loose clothes and it will give your skin a nice break from the sun with the length. A flowy maxi dress is also chic to layer with a crop top or contrast with a fedora hat. I think that going for one in a neutral color will give you a new go-to clothing piece. I have one in black that I've worn so many times that it's almost grey. It kind of has the same effect as the jumpsuit, or the pantsuits, as you don't need to style it that much. When I don't know what to wear during the summer, I often choose the maxi dress with a pair of oversized sunnies. Sounds like an outfit of Nicole Richie or so, but you get the simplicity, right?!
Black (Faux) Leather Pants
The final piece in this statement edition is to work the (faux) leather pants. I think these pants can be worn the exact same way you work your regular black jeans, but with the exception that it gives a favorable edge with the material. Therefore, if you think your outfit lacks energy, try to exchange your pants for black faux leather pants instead. Especially if you work a delicate fabric or a preppy shade, the sharpness of the leather will give the outfit something different. This one is also chic to do monochromatic with a faux leather jacket, or match with some denim. Add a pair of boots and you have a new favorite go-to style. To add is that this clothing piece is also chic to do with a blazer as it's two different styles in one outfit. That sort of clash is always to be strived for!
Folks! Which clothing piece of the part 3 of the wardrobe staples 2018 is your favorite? Let's chat in the comments!