---
Catch part 2 of this series here!
---
There are quite a few ways to describe the wardrobe staples. Or should I say: wardrobe heroes, style keys, basics, wardrobe essentials, key pieces, go-to clothes? Well whatever name I choose to describe (insert your prefered word here), we can all agree that they're essential for a good style and should I say, a developed wardrobe. With a developed wardrobe, it's easier for you to style your clothes. When it's easier for you to style your clothes, there's a likability that you will buy less and you are thereby indirectly living a more sustainable fashion life, in at least one aspect or so.
I did talk about this in the resolutions 2018 and have talked about the go-to pieces a lot the past weeks, so I figured it would only be right to launch a new series of wardrobe staples where I'll pin down some ideas for what staples you might need in your wardrobe to complete your style. This is crucial for the concept of "style more, shop less", a step in a direction of sustainable development and also important for the development of your own style. Here's 10 ideas for wardrobe staples 2018 – Part 1: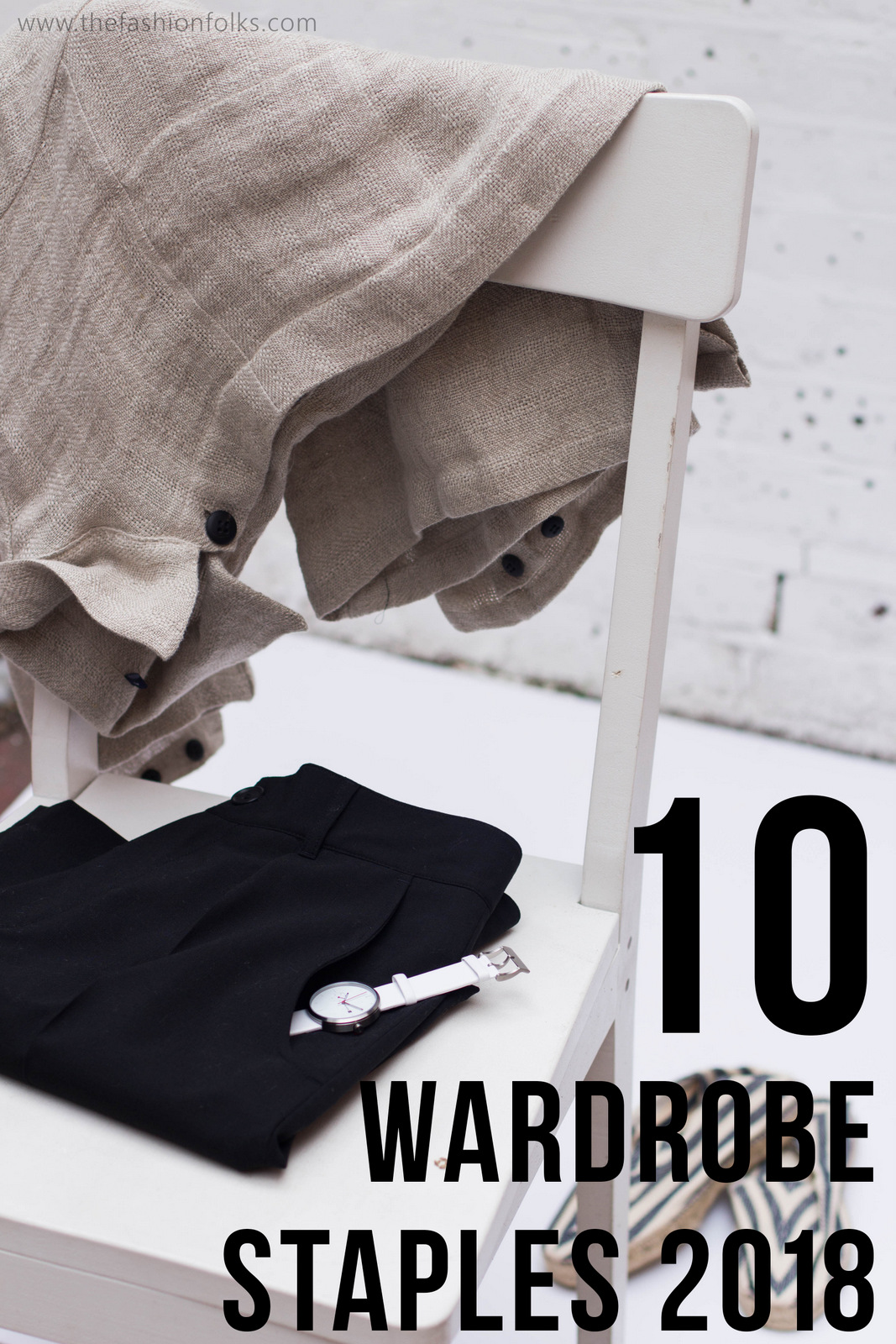 Photo by Renata Fraga on Unsplash
Wardrobe Staples 2018
Black Blazer
There's a perfect balance of functionality and properness in a black blazer. The classic color goes with anything and the structured style adds a formal touch to any look. The black blazer is therefore perfect for anyone working the office hours with a dress code. Add it to your blouse and dress for a more structured look or formalize your white tee. It's less than a jacket but more than a cardigan which makes it a great go-to piece when you need another layer. I also think the black blazer is a chic choice if you're working a street style outfit, as the formal look will contrast the material of denim or leather. A clash with ripped jeans, a white tee and a black blazer is classic and fantastic! The style of 2018 is slightly oversized with an emphasis on the shoulders á la the statement of the 1980s.
White T-shirt
Another great wardrobe staple is the white t-shirt. The simple clothing piece has become a part of the everyday look for millions of people, argued to be a universal clothing piece. The style is rather informal with its, often, loose silhouette which makes it a nice clothing piece to contrast with cigarette pants or a pencil skirt. If you want to go casual with the tee, choose a slightly oversized one and if you want to take it formal, choose a defined t-shirt in a more silky material, perhaps viscose. The white clothing piece has been in the spotlight a bit extra the past seasons, acting as a canvas for the trend of statementtexts displayed on clothes. Dior arguably set the trend on fire with the statement "We Should All Be Feminists" back in September 2016!
Nude Colored Pumps
Disclaimer is that a "nude" color is not a specific color that's universal but an highly individual shade that suits your skin tone. The skin colored shoes have been in and out of fashion for years and their popularity is mainly due to the color + heels' ability to add height to any outfit. As the shoes matches your skin tone you'll create an illusion of longer legs which will help balance any voluminous pants or layered tops. This trick is especially favorable when you're working the midi lengths or when you don't want to outbalance the dress you're wearing. Perhaps you're working a yellow dress and your ordinary black shoes are a bit harsh against the yellow? That's when the anonymous nude colored pumps comes in handy (or footy?).
Little Black Dress
Would this list ever be complete if I didn't mention the little black dress (LBD)? Probably not! Kind of invented, or cemented, by one Lady Chanel in the 1920s and the LBD has had a steady position in the fashion life ever since. Black was previously a color for mourning but the 1920s helped black be a color for the everyday life. The idea behind the LBD is a dress that works whenever and can be styled however. A perfect go-to piece that works for the office hours or a look for errands. Choosing, or finding, a LBD that suits your style is all about what you prefer when it comes to length, material and style. Go for a flowy maxi if you enjoy the casual style and a defined and structured knee-length if you're one for the formal life. The most important part is that you should be friends with your LBD and that it's a natural option whenever you doubt what you should wear.
An Overall
Would it even be an article by me if I didn't at least push the fashion boundaries a bit? Well, probably not! An overall is mostly associated with denim jeans and has quite the 90s vibe to it. This might not be the most obvious go-to piece that exists, but is nevertheless a perfect combination of jeans and a jumpsuit. A denim overall is fiercely done with a simple white tee, a shirt of any sort or a classic sweater of turtleneck. The key idea behind an overall serving your wardrobe at its best, is that not much styling is required!  You can shy away from the classic denim style and go for one in a more formal black or why not a retro corduroy in a fall color? The overall might not be a piece for the office but perfect for the leisure style! Just add another clothing piece to it and you're ready to go. 
Light Blue Denim Jacket
If a black blazer is the top of the hierarchy for the office style, a denim jacket (especially the light blue) is the top spot for the street style look. The simple lines of the jacket and informal style makes it a great, neutral piece, that works with almost whatever. If you add the black blazer to gain a formal look, the denim jacket is a terrific choice when you want to look more casual. Perhaps you need to balance the midi skirt and the blouse with a denim jacket, or you want something to go with your white shirt. The light blue color of the jacket is perhaps the most classic style, but a dark blue denim or a black one will also do the job as a wardrobe staple!
High Waisted Jeans
Some would argue that all kind of jeans are wardrobe staples and I do see that perspective, but if I were to pick out one style of denim that is specifically favorable – it's the high waisted style. First of all, they can be worked as a regular pair of jeans, you just layer the tops at usual. But for all the amount of crop tops, sweaters, shirts and blouses in your wardrobe, the high waisted jeans will solve this problem. They will also create a nice dynamic of silhouette when you tuck in your top and they will also elongate your legs. I think they're extra fine when done as 70s or bootcut, but they are perhaps the most wearable when done as tight jeans! Choose a denim color of your preference and you'll have a new friend that will work with whatever in your wardrobe, just a bit better done in the high waisted style!
Black Boots
The second style of shoes that will help your style is a pair of boots, black boots. They are comfortable, they can be done informal or formal, they work with anything and are an obvious go-to for both summer and winter style. They are as neutral as they get, often done sans details and they suit any style. You can go for the Chelsea boots if you want it more proper or a pair with heels if you prefer to add some height. I think the boots are favorable winter shoes when you wear black tights as it makes the outfit look more coherent. They're also an edgy contrast with the skirts and dresses of summer. If you think shoes are the hardest to style in your outfit, your black boots will solve these problems for you!
A Jumpsuit
When I discovered the magic of jumpsuits my style dramatically changed. I found myself an ally in the jumpsuits, requiring minimum styling and giving that wanted "effortlessly chic" look. As a jumpsuit, logically, covers both the top and the pants, you don't need to think too much about matching which makes it perfect when you're in a hurry or unsure of the dress code. You can add a statement necklace, or earrings, for a preppy look or a denim jacket for a casual one. As the style of the jumpsuit stretches top to toe, your outfit will look quite tidy and coherent which makes it favorable to add accessories or statement clothes. If you want to wear more prints but are unsure about the styling, pick a jumpsuit in a pattern you enjoy and there's no fuss about it!
Light Blue Shirt
Last clothing piece in the first part of this series is the light blue shirt. This clothing piece is undoubtedly one of a more formal style and is universally worn by everyone (kind of). It probably has the same meaning of importance to the preppy style as what the white t-shirt has for leisure clothes. It's a neutral clothing piece that gives a structured and proper look without too much effort. You can elevate the formal style by adding the blazer or keep it more casual by tucking it into your highwaisted jeans. The light blue shirt is also one that's easy to keep informal by rolling up the sleeves and unbutton a button or so. Definitely a symbol of leisure and also a code of fashion that's used by people in powerful positions to signal that they're relatable and relaxed. If they can do it, so can you – right?
Folks! What are your thoughts on the first article on the wardrobe staples 2018? Which one of these clothing pieces do you need in your wardrobe? Let's chat in the comments!! Xx