There are several ways you can stay on point in your fashion game. One of them is to know how the most fashionable folks are making the most out of their fashion life!  Here are 10 things fashionistas always do: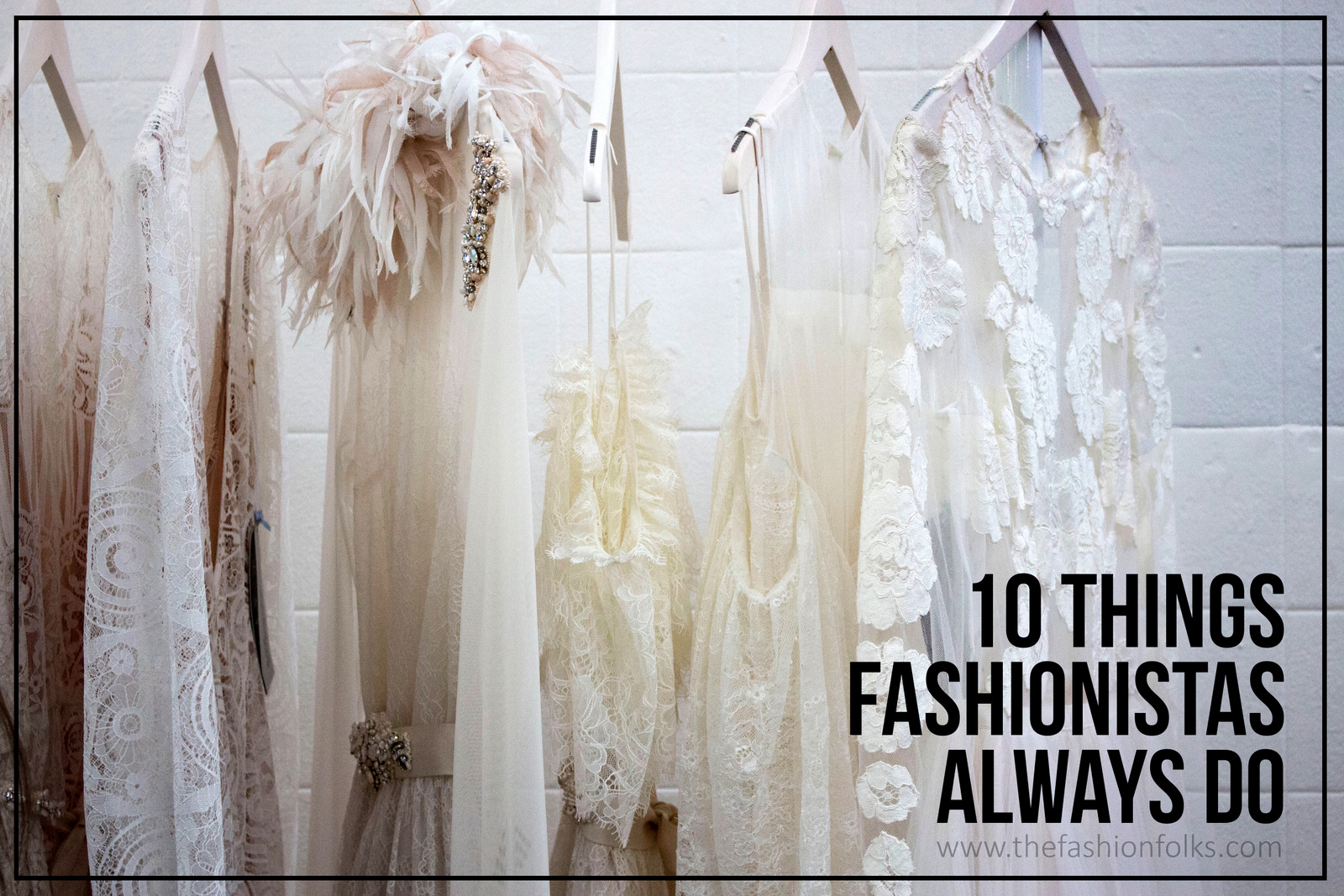 Relies on the wardrobe basics
For the every day fashion style, fashionistas often relies on the wardrobe basics. I'm talking about the daily outfits that are casual and chic with that extra fashion touch. Building a style on wardrobe basics as: a black blazer, skinny jeans, a white tee (etc), are key for dressing stylish and manage the everyday stress. If you have some good basics to go to, you can easily work that floral midi dress without going crazy over the styling process. Why? Because your black blazer will always do!
Proof check their outfit
Proof checking the outfit is to make sure that any awkward situations for you won't be caused by your outfit. What's awkward to some, are not embarrassing to others. Generally speaking though, make sure you can lean forward without flashing anything you wouldn't like. Make sure that your skirt/maxi dress isn't going see-through in the wrong light. If you're going braless you might want to secure the dress/top with some tape. Another way to proof check the outfit is to make sure that you can sit/move around freely in it. Some pencil skirts and tight dresses are way too uncomfortable!
Communicates something
This might sound completely pretentious, and I agree, but either you'll get this or not: To some, fashion communicates more than the bounds of its functionality. Fashion can also reach a point where something is communicated. Perhaps you're sending signals of energy by your choice of a yellow dress. Or you're going artsy with a print of surrealism. An outfit of a fashionista says something more. At least a successful one!
Keeps it balanced
There's no balance in how many times I use the word balance, but here we go again: balance is key in any outfit. This applies to everything, as everything is in need of balance. Balance as in colors to keep it interesting. Balance as in volume to keep the silhouette justifying. Balance in prints as in not going too crazy or too dull. Knowing when to add and when to remove is key for fashionistas. This is something that can be taught if you don't have a sense for balance naturally (let me get back to that in another post), but a general styling tip is to add something contrasting. If you're working an all navy outfit, add that pink blush to soften it up. It's called: (yup, that's right)  balance.
Stays inspired
The weirdest concept people have about inspiration and motivation, is that they are constant. They're not. Inspiration and motivation needs their fair share of fuel too. That's why staying inspired is important to many fashionable people as you always want to be at the top of your game. So be best friend with social media, or the glossy magazines, books or whatever you turn to for getting some inspiration. Do remember that fashion inspiration doesn't have to be limited to seeing other people's outfit, nature can be a source of inspiration to. For instance, the color mix in a flower or a bouquet. It sounds a bit cheesy, I know, but it kind of works if you're open to it.
Try New Things
Yes, style is timeless and elegant and something to strive for. Blabla. Style will never stay a top feature in fashion if it remains without development however. Staying interesting, challenging and improving needs to come from a place of trying new things. Try that new trend, that new color or that new look. That's the only way you'll find out if you like it or not. You really don't have anything to lose as either you'll find a new favorite or you won't. Simple as that.
Have a few go-to's
This comes back to having a wardrobe of basics, but is slightly different. All of us have, more or less, clothing pieces that we always turn to whenever we feel like it. It can be on days your inspiration has hit rock bottom, or when you're stressed as fudge and need something quick. Your favorite jumpsuit will be your friend. Or your favorite maxi dress. The key here is that your go-to shouldn't be more than two clothing pieces in one look. That meaning, you won't need five different pieces for your go-to look, but only throw on your beloved jumpsuit. See? It should be a quick one!
Accepts bad outfit days too
No one is immune to bad outfit days. There are ways you can decrease them though, of course, but a nuanced fashionista (lol, I really just wrote that), stays open to accepting bad outfit days too. A bad outfit day doesn't solely has to be a day where the outfit looks bad, but a day where you're not feeling your outfit. It simply doesn't represent you today. Having a bad outfit day kind of comes back to the principle that it can be quite healthy to be bored in order for you to appreciate your happiness and have fun. Having a bad outfit day will definitely make your good outfit days even better.
Stays true to their style
Even though I do encourage you all to try new things and slightly change your style, it's important to stay true to it. We are all different and look different and we do have different preference. So if you're really not loving the color yellow on you, no need to try it only because it's trending. Perhaps you feel uncomfortable in jeans, well don't take that path then! Have your style as the basis and add small new details to find new things to incorporate to your style.
Mix new and old
Another perspective on finding the balance between trying something new and staying true to your style comes back to mixing new and old. Mixing old and new as in: don't forget all your beloved clothes only because you buy new ones. No need to buy a new closet when you're tired of all your clothes, but to add a few new pieces. Then you'll find yourself having a new setup of endless of styling alternatives. Suddenly your old denim dress will look way better with that new hat you bought. Or your classic black blazer will have a new purpose as it looks so good with that cute blouse. And so it goes!
Folks! Which one of these things fashionistas always do is the one you always do? Drop a comment! Xx
Did you like this post? Hit the share buttons below!