The daily fashion life is more or less about making outfit decisions over and over again till the day we won't be able to. Harsh, but true. More often so, it's about solving problems you've unintentionally have created by your outfit. You know, the story of our lives where we've created a very chic outfit in our heads and when we try it irl, it look anything but chic but actually the opposite definition of chic. You hear me? So we try to solve the problems and sometimes it works, sometimes it don't, sometimes it takes forever and sometimes it's a piece of cake. And people generally love cake (pun intended), so that's why I've dropped some tips on how to make the styling process even quicker. Here's 10 outfit problems to solve today: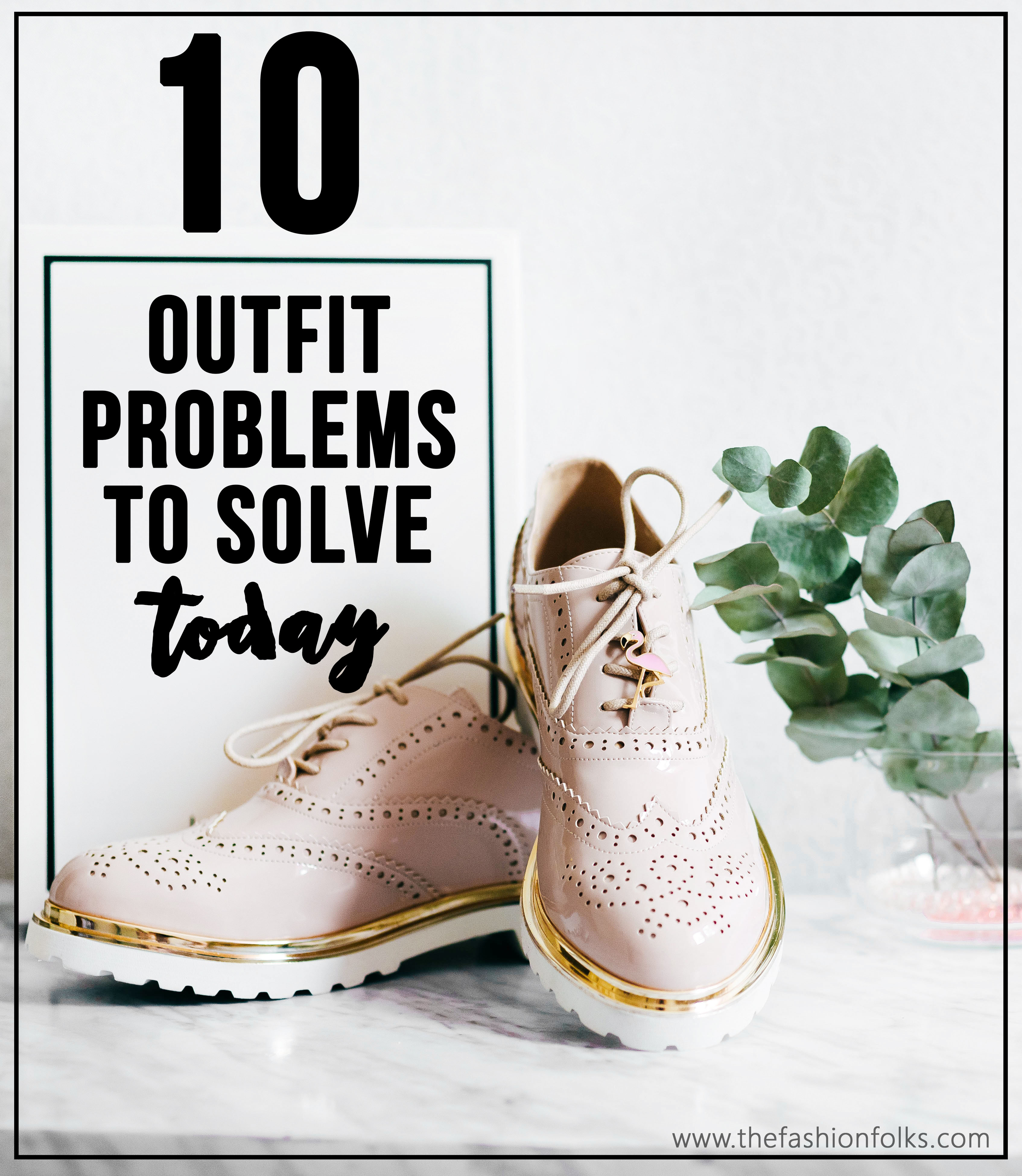 10 Outfit Problems To Solve Today
Loose Silhouette?
If your silhouette is loose, as in a flowy maxi dress or a midi coat, add some definition with a belt. It gives some structure to the outfit and will create a statement silhouette. Whether you mark the waist or the hips, be sure to pick a belt that works with the outfit. Add a matching color or contrasting depending on what statement you want to make. Don't forget to pull up the fabric a bit (so it gets a bit loose), so the belt looks more "naturally" incorporated in the outfit.
Dull Colors?
It happens way too often that an outfit looks rather sleepy and dull due to its lack of dynamic colors. Love monochromatic outfits though, don't get me wrong. But when a monochromatic look is done without interesting clothing pieces or other contrasts of textures and silhouettes, it can easily get dull. That's where you add a contrasting color. Either you make it pop with something colorful or you keep it more low key with neutral colors, still contrasting though.
Heavy Lower Focus Point?
You know the 70s jeans? Statement hem? Culottes? Pleated midi skirts? They have a tendency to create a heavy lower focus point. Where your legs will look unproportionate and the outfit will look heavy. That's when you add shoes that will balance the look. Go for heels if there's a lot of fabric that needs, literally, to be lifted. Choose shoes that are minimalistic in their design to be sure that you balance the heavy volume. Other alternatives are flat shoes as ballerinas, sandals or slippers that are rather neat. Perhaps in a nude color or a color similar to the pants/skirt? It works!
Flowy outfit?
As talked about earlier, summer clothes have a tendency to be rather bohemian and flowy in their style. A lot of A-line silhouettes, ruffles and sheer fabrics. This can easily look too casual or become too much and that's where some structure is needed. You can either add a belt to balance the fabric or you can add a structured clothing piece or accessory. A blazer is always a safe choice as they have defined lines and a defined shape. A cropped jacket as in leather or denim will also do. As for accessories, add a clutch or bag in a minimalistic style. Hats are another great example of accessories that will add some structure, go for a feodora!
Dull Clothes?
Much alike when an outfit needs some colors, an outfit can quickly be more stylish by some print. By adding a print you add some life to the outfit by the movement a print often comes with. Go for a subtle one if you like to keep it low key or go full on statement with a dynamic pattern. If you're working a monochrome outfit, it'll be a favorable choice to go for print in colorful shades, including the one of the outfit. Adding a print is easily done with a scarf!
Too hot/ too cold?
Even though we all love our warm winter coats or sweaters, the way to hack the cold mornings/hot nights in August is to go for a layered outfit. With a layered outfit you can easily remove the top layers when it gets too hot. Do a buttoned up shirt, a sweater over it and a jacket. Remove the jacket, and perhaps even the sweater, as the day goes on!
Structured Outfit?
Another common problem is that an outfit often looks way to structured and perfected. That everything is perfectly placed and not a line is wrong. That's when the outfit needs some action by a flowy piece. Perhaps change the blazer to a cardigan or do culottes instead of cigarette pants. Contrasts and balance are A and O in an outfit and that's why it's key to know how to keep it dynamic.
Too much going on?
Less is more might be the most used and boring fashion rule there is, but it has some truth to it. Sometimes an outfit is just way too much with accessories, jewelries, prints and layers of clothes. Remove an element or two before going out and you'll see how the outfit will look lighter (and probably feel lighter too). A rule to remember is that you don't do more than two statements in an outfit and only one per area (upper/lower). That means, a statement necklace and statement shoes will do. A statement necklace and statement earrings won't do!
Not enough action?
If less is more is well-known, more is more is constantly growing in popularity. If your outfit looks sad, dull and motionless, this is when you add a statement. As talked about above, do two statements per area and see how that will add some life to the outfit. Go for a statement for the upper body and one for the lower. They can easily be matching too if you want to stay on the safe side of the matching life!
Heavy Upper Focus Point?
If your top looks rather heavy with ruffles or it's a turtleneck, be sure to keep the rest of the upper body simple. Skip the jewelries if too much is going on and do your hair in a bun to keep it even more simple. There's a reason that tucked in hair in a knitted turtleneck became the it-look a few years ago as it balanced between keeping it simple with the hair yet making a statement with the clothing piece. A crazy print might also be a bit too much when near the face so be sure to keep the hairdo and accessories light.
Folks!! Which one of these outfit problems to solve today is the one you always embrace? Which one do you want to do more often? Let's chat in the comments!