Is anything better than a big dose of fashion inspiration? Uhm, think not! Here are 10 outfit ideas summer 2017. And oh, here are 22 ideas more and another 31 ideas!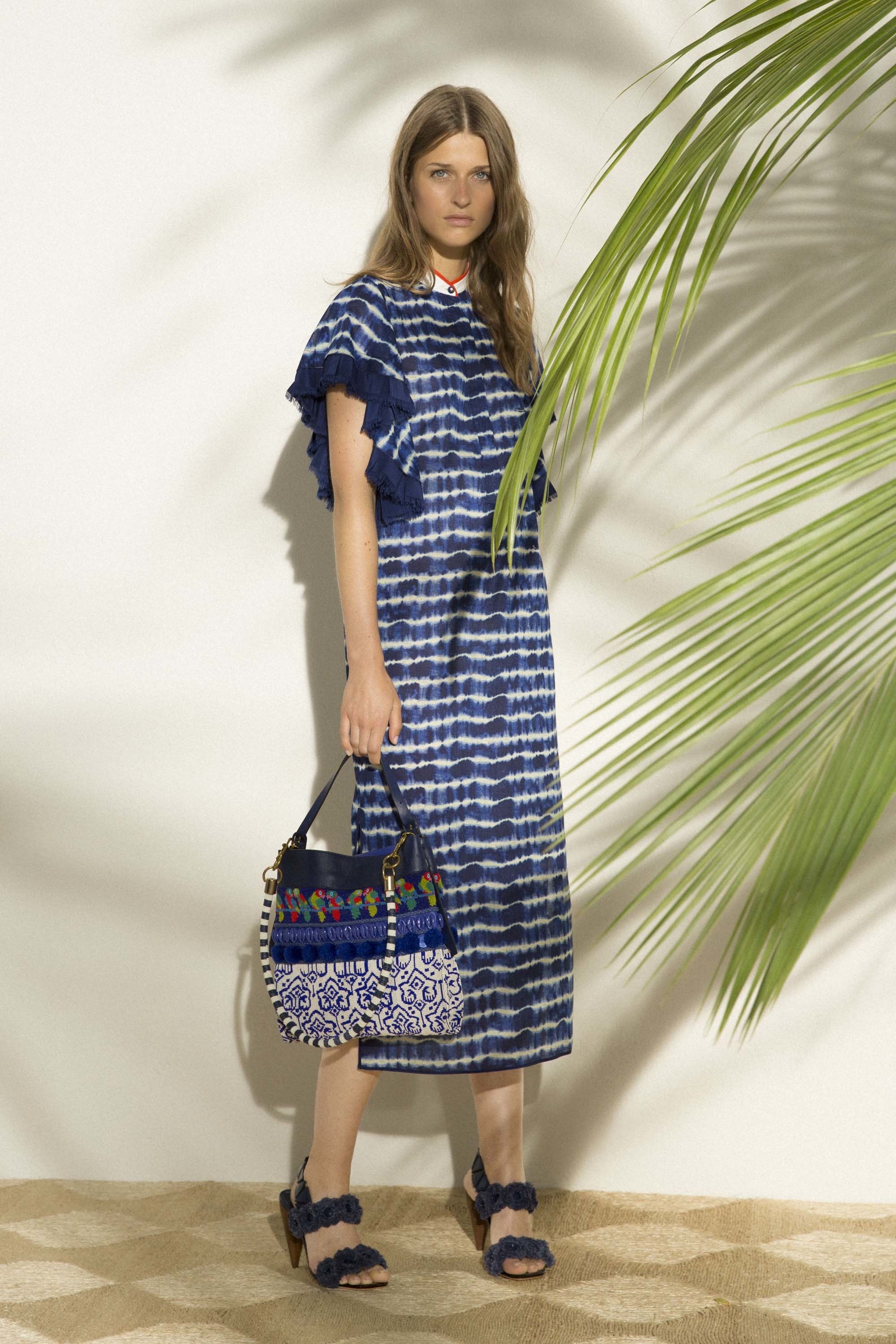 Courtsey of Tory Burch (resort 2017)
1. Navy Stripes with Orange
We all love them navy stripes, don't we? A chic and classic way of adding the color to the navy style is to go for a classic red. If you want to mix it up a bit however, add an orange shade instead. Similar enough to red to still be working but different enough to give a more youthful and energetic vibe!
2. A straw bag to a midi dress
If the straw bag is perfect for the picnic life, nothing screams picnic more than a vintage-style midi dress. The combo is quite magical as it brings the summer vibe all around. Try a fun off shoulder midi dress that's been trending with blue/white stripes. It ought to be a hit!
3. Pleated Skirt and A Graphic Tee
The pleated skirt often gives a rather classic and elegant vibe which makes it perfect to match with a street style piece. A chic street style clothing piece is the graphic tee that gives the ultimate youth vibe. Go for one with a fun text and illustration and see how chicly it'll balance the pleats!
4. Highwaisted Denim Shorts and Statement Sleeves
One, often, foolproof way to create an outfit is to mix wardrobe basics with trend pieces. In this case, the highwaisted denim shorts is a wardrobe basic to count on whilst the statement sleeves adds the 2017 touch. The fun balance of them two is that the denim is a bit edgy and the sleeves are more elegant. They complete each other in a perfect way that is!
5. LBD and Statement Earrings
If you have "nothing" to wear, aka your wardrobe's content isn't in line with your mood for the day, always be sure that you can count on a classic LBD and a pair of statement earrings. If you don't own your LBD of choice yet, time to get yourself one. After that, you can always, always, turn to the dress and add the statement earrings for a classic and chic look!
6. Midi dress with blouse over it
If it's one of those chilly summer days, a chic way of remaining stylish and embracing summer is to layer your summer clothes. Let the midi dress function as a skirt and add a blouse on top. Think a navy blue midi dress and a dove blue blouse? Yup, that's a pretty combo right up there. The layers will also keep you warm, at least a bit!
7. OTK boots to a playsuit
Another outfit that is more suitable on chilly days it to bring back your OTK boots and work them with a playsuit. Yup, the OTK boots are too good to ignore for spring/summer if you ask me. Balance the heavy style of the boots with the light and summer vibe of the playsuit. Mix and match print/color however you prefer. Add a hat too and you got yourself a boho chic look!
8. A neutral outfit with a printed scarf
The power of a scarf in a print of your flavour shall not be underestimated. That scarf will be your BFF whenever your outfit needs a pop. A neutral outfit, preferably a chic monochromatic one, is the ultimate look to add a printed scarf to. It'll underline the basic style of the outfit and make the print pop further. A simple navy blue A-line dress with a leo scarf is a classic and chic combo!
9. A denim skirt with a pop of color
It's easy to go for the neutrals when going denim. And as much as I love a denim skirt with a classic white tee, I love the skirt equally when paired with a pop of color. A colorful neon top with a denim skirt is kind of a must. Or a colorful off shoulder top, perhaps a yellow one, with a denim skirt is so good!
10. A graphic tee to cigarette pants
Okey, one more on the graphic tee! How about a graphic tee to cigarette pants? This kind of works the same as with the pleated skirt, the cigar pants are classic and the graphic tee is a fun contrast. Try to match the color of the illustration of the graphic tee with the color of the cigar pants. This way you'll enhance the shades and the colors will pop.
Folks! Would you wear any of these outfit ideas summer 2017? Let me know in the comments!