Is it even summer if you haven't seen a fashion blogger work the navy style? Not sure! So here are 10 ideas on how to work the navy style summer 2017. How to bring the glamorous sea side of life to you that is!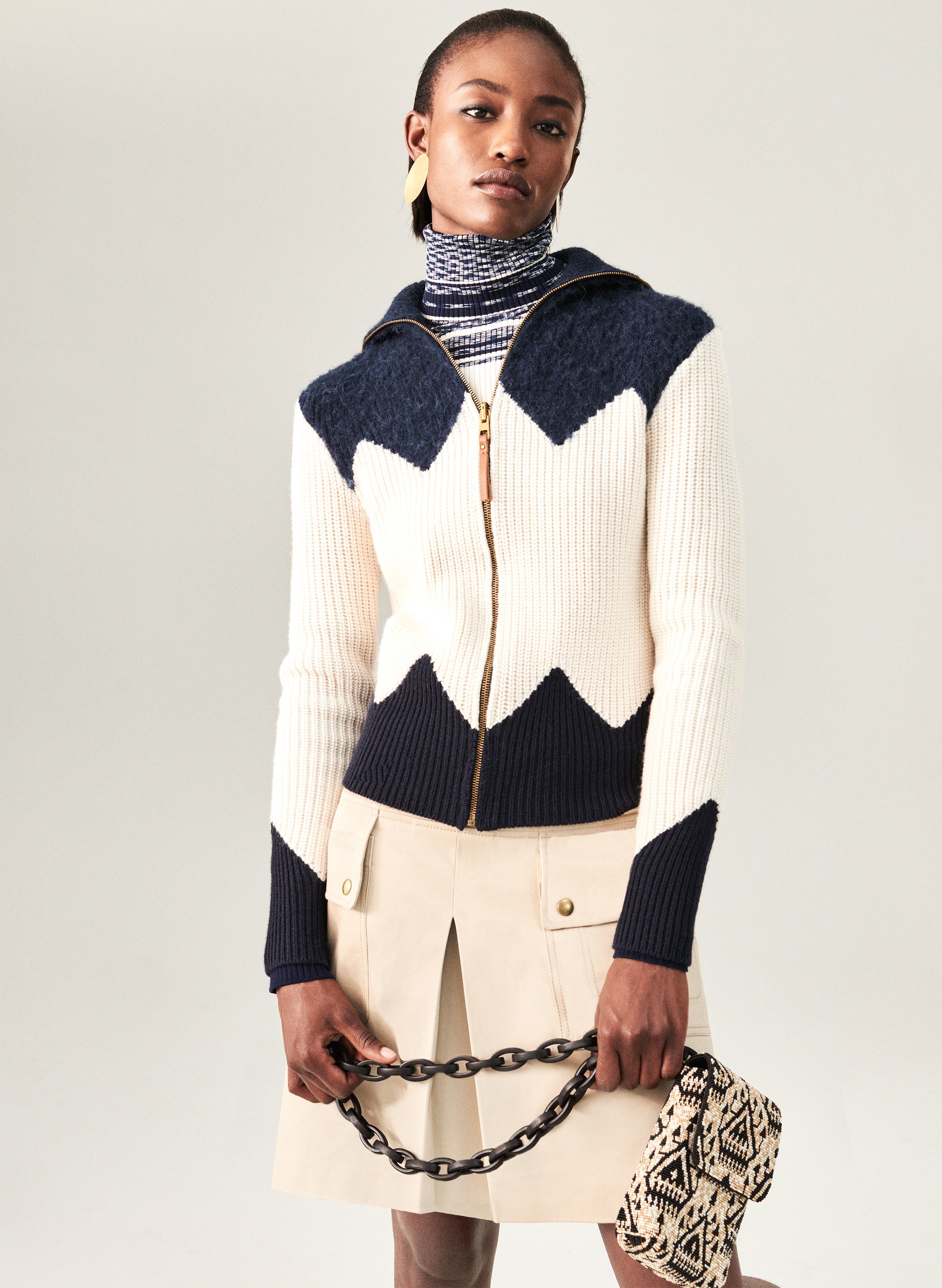 Courtsey of Tory Burch (resort 2018)
1. Navy blue blazer
This might be the ultimate glam way of going for the navy life, but a chic one for anyone that desires a more proper look. A navy blue blazer will add some structure to the loose summer clothes as well as balance to all the bold colors and prints. Find a navy blue blazer with golden details to get the ultimate navy look. I'd work the navy blazer with colors of neon, pastel and prints of stripes/floral!
2. Navy stripes
Is there anything prettier than stripes with a navy feeling? Not sure about that! I'm not only talking about stripes in navy blue/white but also red/white stripes. They are often thicker in the style so be careful how you match them. Horizontal stripes that are large add width which both makes them favorable and difficult to style. This, of course, depends on if you want to add the curves or not. The color scale of red/white/navy goes well with one another too, so don't be scared to match them with each other.
3. Rope details
Another central part of the sea life are ropes. This detail is common in the commercialized navy fashion too, often figuring as print or details on bags. Ropes done as gladiator sandals have grown in popularity the past years and also have a resemblance to the navy style.  Go for rope sandals or a bag with rope details!
4. Navy blue and gold
As previously mentioned, gold is a common color that accentuates the navy style. Navy blue with gold buttons is a common style and nevertheless terribly chic! Go for a navy blue shirt with gold buttons or why not a navy blue dress with a gold belt?
5. Add the straw hat
I pinned down the perks of the straw hat in this post and what's more handy than a chic straw hat? Go for it oversized to add the dramatic glam look or take it casual with a trendy style. A natural colored one breaks of the navy stripes and navy blue pretty well but a dyed one or one in stripes can be a fun contrast too!
6. Navy colors
Another brainy thing to start with is the navy colors. Navy blue, red and white are the top ones. Gold works perfectly as a detail color and silver might not be as common but stylish with the colors nevertheless. A tan shade is another accessory color that works well with the main navy shades.
7. Playsuits
There's something playful with playsuits that are perfect for the navy style. Do a classic style in a navy color as red, white or blue! Trendy styles for 2017 include playsuits with ruffles and in an off shoulder style.
8. Straw bags
If the straw hat is a chic accessory, a less (kind of) glam one is the straw bag. They're functional, comes in many shapes and gives the trendy summer touch that's accordingly to the trends of 2017. Go for a vintage style if you want to keep it elegant or a fun shape to mix things up with the more proper navy style!
9. Clean lines
One of the key principles with the navy style is to keep it simple.  If the boho style comes with all the details and layered accessories, the navy style is more structured and minimalistic. Barely any accessories but bag and hat and some subtle jewelleries. The navy style is also centered to stripes or some simple prints! Keep it light on the styling that is!
10. Midi lengths
As stated, the navy style is on the rather glam side of life. A way of maintaining the elegant look is to go for the midi length. The exact length of a clothing piece is rather proper and gives a more glam feeling. Maxi is a bit boho, mini is more energetic and midi is glam (roughly divided). So a navy blue, pleated, midi skirt with a white off shoulder top and a tan clutch is probably the ultimate navy look I can imagine atm. Love!
Folks! If and how are you working the navy style 2017? Are you going elegant or keeping it playful? Let's chat in the comments!