Okey so perhaps August fashion isn't even a specific thing, especially not given that you are alll from different corners of the world. But my definition of August fashion in this post are the somewhat chilly summer nights and days that are not crazily hot as in July. That fashion? Yup, that's what I'll be giving some ideas on today. More layers, more summer trends with touches of fall etc. Here are 10 ideas for August fashion 2017: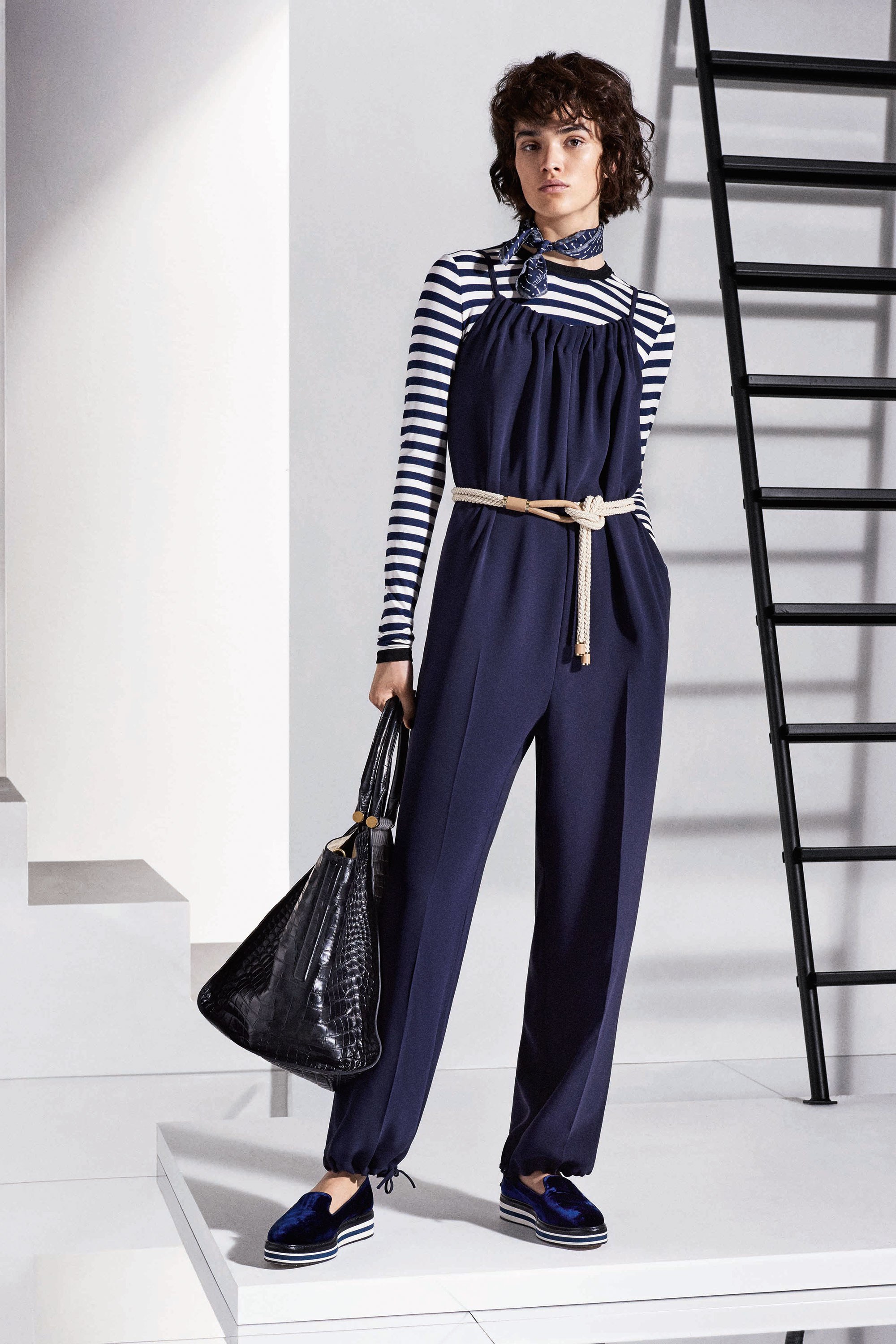 Courtsey of Max Mara (resort 2018)
10 Ideas For For August Fashion 2017
1. Midi Dress With Cropped  Sweater/Jacket
Nothing makes me happier than clothes you can multiuse. A midi dress is definitely a particularly favorable clothing piece you can use in more than one way. When the chilly August evening hits you, add a cropped sweater to the midi dress. That way you'll get yourself a flattering midi skirt/top outfit. A cropped jacket will also do the trick for you and create a chic contrast of the levels. Go for a summer print as in floral and add a cropped sweater/jacket that shares color with the print. Easy and smart!
2. Two Layered Dress Look
I'll try to develop this fashion hack more elaborately in another post, but I'll throw in this quick tips here however. If a dress is a bit too short for your liking and you don't want to use it as a top, as it lose the feeling of being a dress, layer the dress. Go for another dress under the shorter dress and leave a bit of the underdress visible. The key here is to let the top dress decide what dress you should wear underneath. If the top dress is tight, go for a tight dress under. If the top dress has a flowy style, go for a flowy underdress. As the first dress is loose in its style, there'll be room for a dress underneath. A fun way to mix these two is to go for a print/neutral combo. Or to color contrast. You can also go for a neutral mix. If the top dress is a blue/white floral print, go for a same colored blue underdress!
3. Playsuit With Over The Knee Boots
I've talked about this combination before, but perhaps it's even more fitted for August. A fun and summer styled playsuit will surely be a fun contrast to the heavier and fall appropriate OTK boots. Go for a playsuit model with statement sleeves or ruffles to contrast the structured style of the boots! A white playsuit with black OTK boots is a classic. But a floral one in a pastel shade works well with black OTK boots too!
4. Midi Skirt And A Denim Jacket
A midi skirt is often contrasted with a leather jacket, which makes a denim jacket a fun change. The most trendy style for 2017 is the pleated midi skirt in sheer fabrics. That specific style makes it even more fun and favorable to match with the casual and edgy denim jacket. Try a midi skirt in a color that is favored by denim, as a neon color, a pastel or why not one in a fun print?
5. Culottes Instead of Shorts
The exact outfit you had planned for your shorts can easily be transferred to a look with culottes. Culottes will be a perfect choice for a cold August day but still add the sweet summer vibe. Keep the summer vibe alive with culottes in a tropical print or a color of summer. Remember though that the sneakers you might have thought of styling with your shorts might not work as well with the culottes due to the clash of "heavy" culottes and "heavy" shoes as sneakers tend to be. But choose a lightweight sneaker style or go for flats/sandals or any other shoe that will ease the heavy focus in the outfit.
6. Pastel Color With A Fall Shade
I talked about this fashion secret in this post, but it's about time that we use it too. Right? A pastel color and a fall shade in one outfit might be your ultimate style to do for an August mix. A touch of summer and a touch of fall. Catch this post and see what color combinations your prefer. A genius and fun style trick is to go for colors that exists in the same shade. A pale green and a forest green for instance. It'll intensify and balance the look!
7. Add A Scarf As The Final Layer
I know, I love scarves as much as you do but scarves are not the go-to choice for summer due to obvious reasons. Not even the lightweight versions are fun to do. BUT August will be your friend, or colder summer days that is. Add a scarf as your final layer to keep you warm but also stylish. Perhaps your maxi dress needs a contrasting color or your outfit needs a pop of print? That will your scarf take care of! Structure it with a belt and make it a natural part of your outfit! Or just tie it around your neck to add a stylish pop. 
8. Midi Long Cardigan
I apparently prefer all looks midi this month, but hey, the style of length is inevitably a very chic one! One chic way to work the length is through the clothing piece cardigan. A midi long, open, cardigan will frame your outfit in a favorable way. Work your usual summer look with shorts and a cute blouse but add the midi long cardigan to frame the look. It adds another level to the outfit which makes a chic statement. Even more fun if you go for OTK boots or knee high gladiator boots. The framing will be even more notable and chic. You can also just layer it up with a dress, which also gives a sort of frame.
9. Neon And A Neutral
Neutrals might be the minimalists go to shades all year around but they are even more beloved and used for fall. That's why they're chic to pair with the summer colors that the neon shades are. Especially neutral shades as white, grey, tan and denim are fun ones to match with whatever neon shades prefer. I still crush on neon green with denim but also with white and tan. A tan is fun to do with neon yellow but also neon pink. Neon orange is a must do with white and grey, just genius!
10. Summer Fashion In A Fall Style
You know all the summer fashion I've been talking about all summer? Like off shoulder tops, ruffles, gingham, stripes etc? Well take your favorite summer pieces and style them in a fall look. A fall look doesn't have to mean that you go full on with all the layers of clothes; but add fall shades, accessories or other things reminiscent of fall. Go for that off shoulder top in a pink shade and pair it with burgundy pants. Or take your dress with ruffles and add a hat, some boots and perhaps a scarf? The best way to get the best of both seasons is to mix the best of both seasons!
Folks! Which one of these ideas for August fashion 2017 will you be working? Drop a comment below and have a darling weekend with lots of chic outfits, yummy food and a lot of rest! Xx