Fall 2019 is going strong and a fashionable way of reminding everyone, that now is the time to do all those fall things, is to make a list like this! Just 10 ideas on how you can make this fall season more cozy, more stylish and more peaceful (or something). Here's some ideas on how to embrace fall 2019: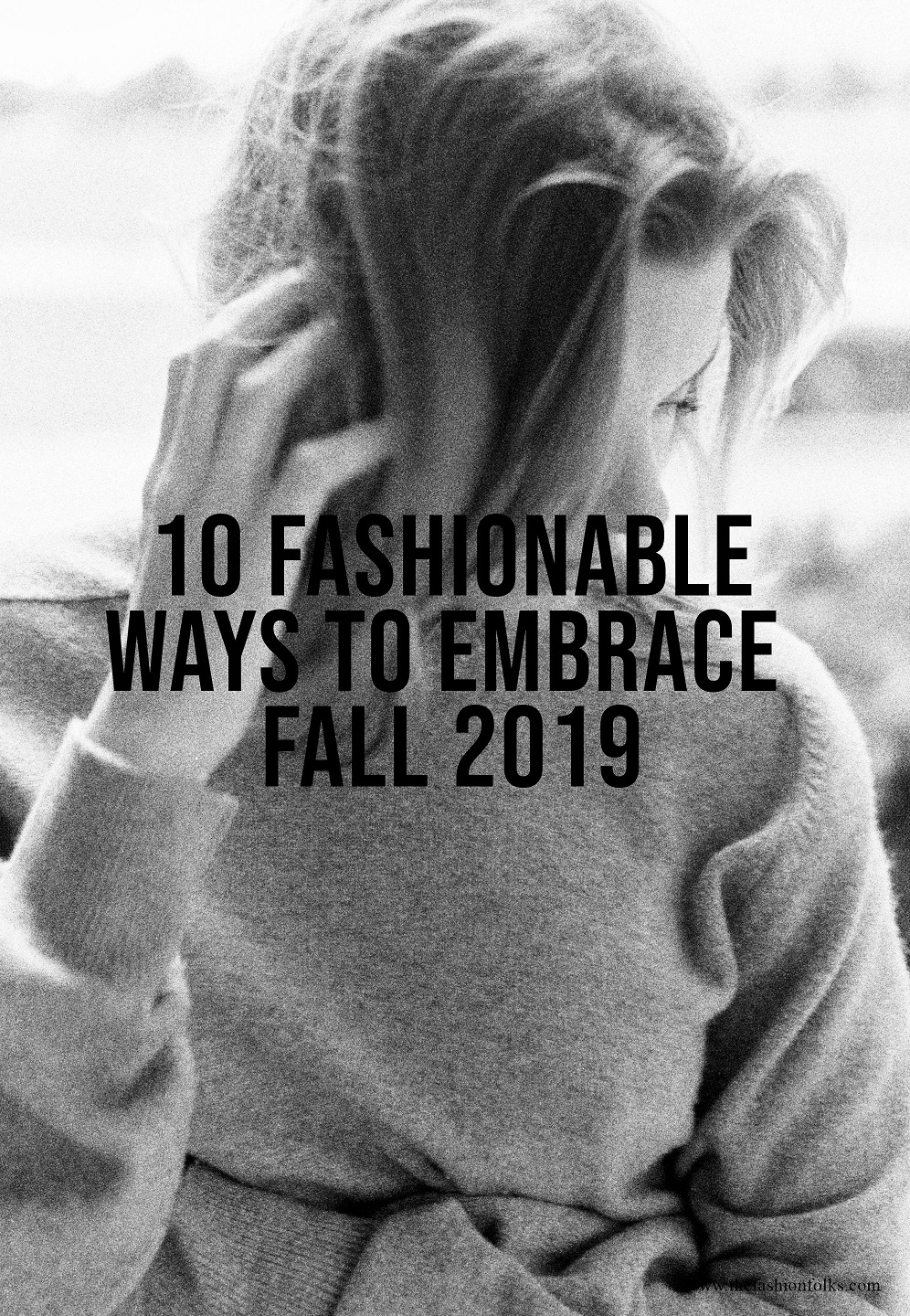 Embrace Fall 2019
Fall Materials
First out is of course the fall material. Nothing screams fall than statement materials. Denim, (faux) fur, leather, suede, corduroy and knitwear are all great choices. Go for fall colors or earthy tones if you want to embrace the fall materials fully! An olive green knitted sweater? Yes please!

Bronzy Shades
I love the metallics for fall and combining that with fall's trendiest color is nothing but a fashionable idea. Bronzy, golden, copper shades are all stylish ideas for fall! Perhaps some accessories in the colors, or why not embrace the colors in your makeup? Some gold in your highlighter, a copper colored eyeshadow or why not a bronzy finish? 

Heavier Scents
Whether we're talking scented candles or perfumes, the spicy scents of fall are a must if you want to achieve a high level of fall coziness! Light a scented candle when you wind down at night, or choose a body mist with tones of ginger, cinnamon or bergamot or whatever your favorite fall/winter scent is! 

Colorful Nails
I love darker nail polish and fall is the ultimate season to embrace them. Black, oxeblood, a dark forest green or brown, plum – you name it! Darker nails are a stylish match if you wear fall colors or statement materials. Love to layer up with rings and bracelets that matches or contrasts the nails too! 

Layered Outfits
A must for fall is to layer your outfit! This season it might be extra important as the midi and maxi lengths are trending. A maxi or midi outfit is well-contrasted with a cropped jacket. It's also chic to layer with longer coats to frame the outfit. Love the idea of going for a shirt, layer with a knitted clothing piece and finalizing the look with a statement material such as leather, faux fur or why not teddy? Also add a scarf for a more intense layered look!

Warm Coats
I wrote about the coats in this article, but can't stress enough how important they are this season. They'll surely keep you warm and they'll be a nice final layer to any outfit. They're fun to layer with more delicate dresses but also do more edgy with a pair of high boots. Finalize the outfit with a fedora hat or a beanie for the complete fall look! 

Inspiration Marathon
What to do on a cold and rainy night? Well, how about going on an inspiration marathon? Dive into the most inspirational corners of social media (hello Pinterest!), read an inspiring book or watch your favorite movie. The secret to a successful inspiration marathon is to light a scented candle, curl up with a big blanket and have something to drink. Tea, red wine or why not a good ol' hot chocolate?

Earthy Colors
The best colors this fall are the earthy colors. I'm talking colors that look a bit washed out and are more neutral compared to their more intense "original" colors. A faded orange, a dove blue, a cool olive green or anything camel, beige or brown? All of these are great choices if you want to go for more earthy shades!

Home Spa
A must during fall is home spa! This is the season indeed to do that manicure or pedicure. Put a face mask. Do a scrub, take a shower and apply a nice body lotion. Put some relaxing background music or a podcast. Just take the time to take care of yourself and de-stress!

Blanket Scarves
Lastly, a must during fall are the blanket scarves! They are the best when it comes to staying warm, they're great for layering and they're a nice pop in the outfit. I have an oversized blanket scarf that's houndstooth on one side and a red plaid pattern on the other side. It's been a staple of mine for years! Cozy, warm and stylish!

Folks! How are you embracing fall 2019? Give me your best tips in the comments below! Xx