There's nothing like secrets, and there's definitely nothing like fashion secrets! I know that many of you already know about these secrets, and I've talked about some of them before. But there's nothing like packing them up in one article like this. Here are 10 fashion secrets everyone should know about!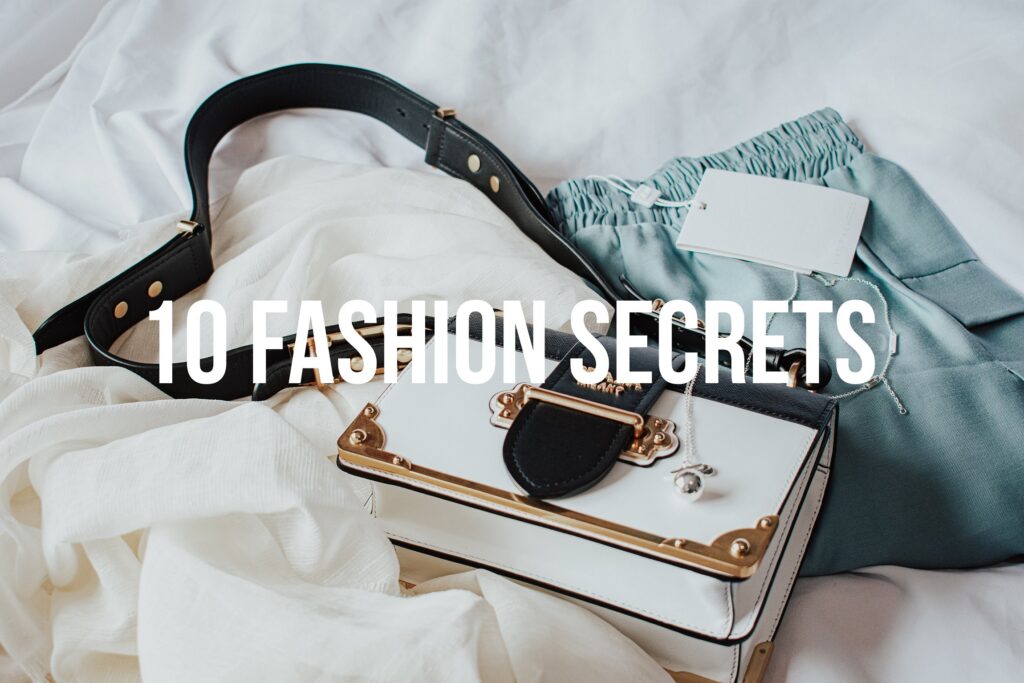 10 Fashion Secrets
Platform Heels
If you'd like to add some height to your outfit, but you don't want to go for classic heels: try platform heels. Platform heels are more comfortable than regular heels, and are often more wearable too. Great if you're working a maxi dress, maxi skirt or 70s' jeans!
Recycled Fashion
One way of making the most out of your wardrobe is to actually put away some of your clothes. Kind of like letting your clothes rest a bit. If you have a few items you're tired of wearing, put them away for a few months and see how you'll feel about them later. If you're still tired of them, give them away! If not, well, start using them again.
Invest in Sets
Sets are really wearable. They're easy to style as you only need to focus on the accessories. As they're monochromatic in their look, they're also great when you want to create an "effortlessly chic" look. You can go for matching top and pants, a pantsuit or skirt and top! 
Oversized Jewellery
If you wear a lot of basic clothes and you want to make your style more interesting, invest in some statement jewellery. Going for a pair of black jeans, a white t-shirt and a statement necklace will create quite the it-look. Or, love the idea of a simple LBD and a pair of statement earrings. 
A Good Pair of Sunglasses
Whatever your style is, invest in a pair of timeless sunglasses! They'll surely be helpful on sunny days but also work as an extra detail in your outfit. Round shaped sunnies will add a more soft touch, whilst a straight frame will be a bit more edgy. Go for a style that suits you!
Common Theme
If you don't know how to make your outfits look more cohesive, you should try and think of a common theme when choosing accessories. Perhaps it's about having all the accessories in the same color, or it's about matching one of the accessories with the main outfit. Maybe it's about focusing on the materials in the outfit, by contrasting with some denim or faux fur? Find a common theme for your outfit!
Dress Up/Dress Down
One thing to know is how to dress up/dress down. In general terms, dressing up is about: heels, fitted clothes, jewellery, blazers and lace/velvet/silk. Dressing down: sneakers, jeans, oversized clothes, sporty details and loose fit. 
Comfort is Key
It doesn't matter how chic the heels are or that sequin dress, if the item is not comfortable – it's not worth your time. Clothes that are comfortable are essential for everyday life, and the same goes with shoes and other kinds of accessories. Protect your energy and don't walk around another day adjusting a skirt that's annoying.
Patterned Bags and Scarves
If you want to make your outfits more dynamic, focus on adding patterned bags or scarves. A pattern is often more energetic by default, which makes them great for pairing with basic outfits. Love the idea of a beige set and a snake print bag. Or why not a olive green jumpsuit and an orange patterned scarf?
Nude Shoes
Owning a pair of shoes in a color that's matching your skin tone will help your style tremendously. They'll be perfect to wear when you want to centre the attention to the outfit. Also great if you're wearing a "heavy" clothing piece and you need to make it lighter by neutral accessories. Or maybe your outfit is full of details and colors and you need a pair of neutral shoes to make it work!
Folks! What's your favorite out of these 10 fashion secrets? Do you have anyone you want to share? Let me know in the comments below! Xx