Improving your beauty game is always a fun. It's not about anything dramatic, but subtle improvements on how you do your makeup, your hair or your makeup routine. The way to improvement is learning about some beauty secrets, how you can level up your game with small changes. Learn more below about 10 beauty secrets 2020: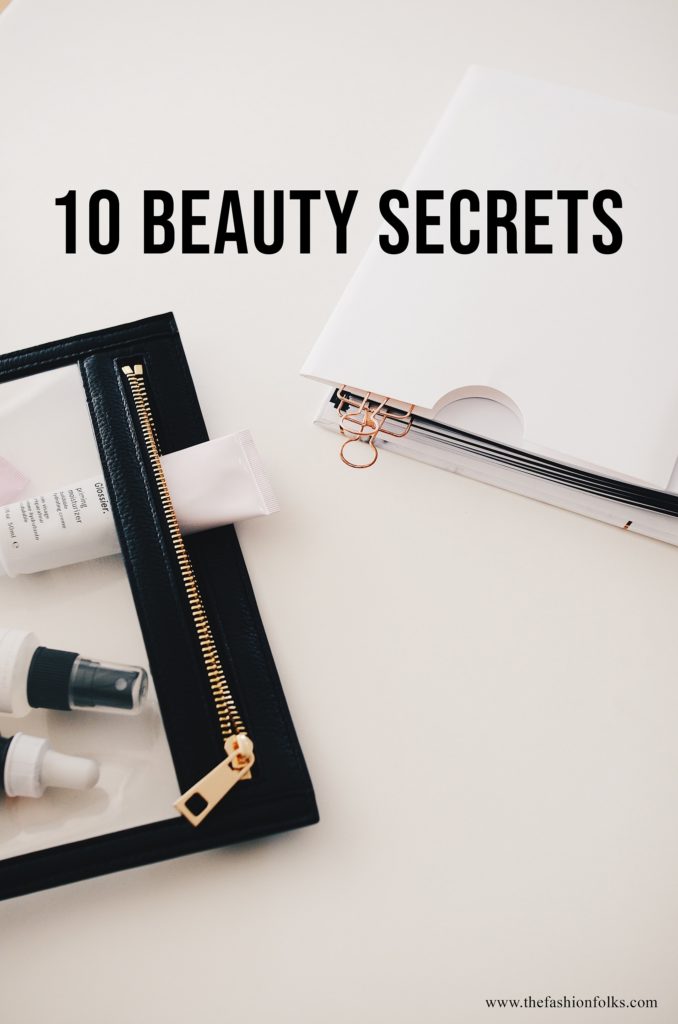 Beauty Secrets 2020
Hairspray Instead of Eyebrow Gel
If you don't own any eyebrow gel, or you're out of it, secure your eyebrows with some hairspray instead. Spray some on your eyebrow brush and shape your eyebrows accordingly. It will make the eyebrows stay in place!
Change Your Sheets
Is your skin annoying and you don't know what's wrong? Well, try and change your pillow sheets more often. If you think about it, you spend an awful lot of hours with your face pressed against the same sheets, that's why it can be a good idea to change your sheets more frequently. Some people also swear by investing in satin pillow cases instead of cotton or polyester.
Maximize The Glow
You wanna maximize the glow? Make sure that you have the right products! Avoid mattifying products and buy primers, foundations etc, with a focus on glow. Liquid products usually gives a smoother glow, whilst glowy powders doesn't always look as natural. You can also add a few drops of an oil to your foundation for a more dewy look. I'm also a big fan of dabbing some coconut oil on the cheeks, the nose tip and the upper lips. Subtle and dewy!
Keep Your Old Mascara Wand
When you're done with your old mascara, keep the wand! You can use it for separating lashes or combing your eyebrows. Just make sure to clean the mascara wand properly, before working it with your brows and lashes.
Shape Your Nails Right
Not many people know this, but when you file your nails you should do it in one direction – not back and forth. Going from the sides inwards is also a good idea if you're going for a more round or sharp tip. After you've shaped your nails, show them some love with a nail oil or so! 
Massage Your Scalp
One easy thing to do when you're in the shower and applying shampoo, is to massage your scalp. This will help the blood circulation and give you happier hair roots. Your hair will probably be more clean too, as you'll make sure that the product will applied properly.
Multiuse Products
If you're on vacation and you don't have all the right makeup products with you – multiuse them! I've written about this before, find the article here, but it's simply about being creative. Lipstick can function as blush and even eyeshadow. A bronzer can work as an eyeshadow too. Lipgloss can be eyebrow gel and so on! 
Use The Right Products
Knowing your hair and skin is definitely key in your beauty routine. If your hair is dry with split ends, buy a shampoo and conditioner that addresses the issue. If your skin is really oily, well, buy skin products that are suitable for oily skin. If your hair and skin is normal without any major issues – you're good to go with "regular" skincare and hair care. No need to invest extra money and time in products you don't need!
Make Your Nail Polish Last
Painting your nails can be quite annoying, but it's well worth the effort if you do it right. A transparent base will make your nail polish last longer, a top coat will also secure the nail polish. Put on a series or a movie and make sure to do all the steps! You'll be happy one week later, I promise! 
Know Your Eye Shape
Lastly, another thing that will improve your beauty game is to know your eye shape. It's quite easy to look at a tutorial and copy it, without making the necessary adaptations after your own eyes. Some eyes are more hooded, others are really round. Knowing your eye shape will help you knowing where you should shade more, where you should brighten up and so on. Do a quick google search on different eye shapes and learn about how your eyes should be done!
Folks! What are your beauty secrets 2020? Let me know in the comments below! Xx