We have a lot in common, you and I, but if there's one thing in specific I know that we both love: it's the combo of lists and hacks. So in honour of June approaching quickly, I've compiled a list of useful beauty hacks summer 2017: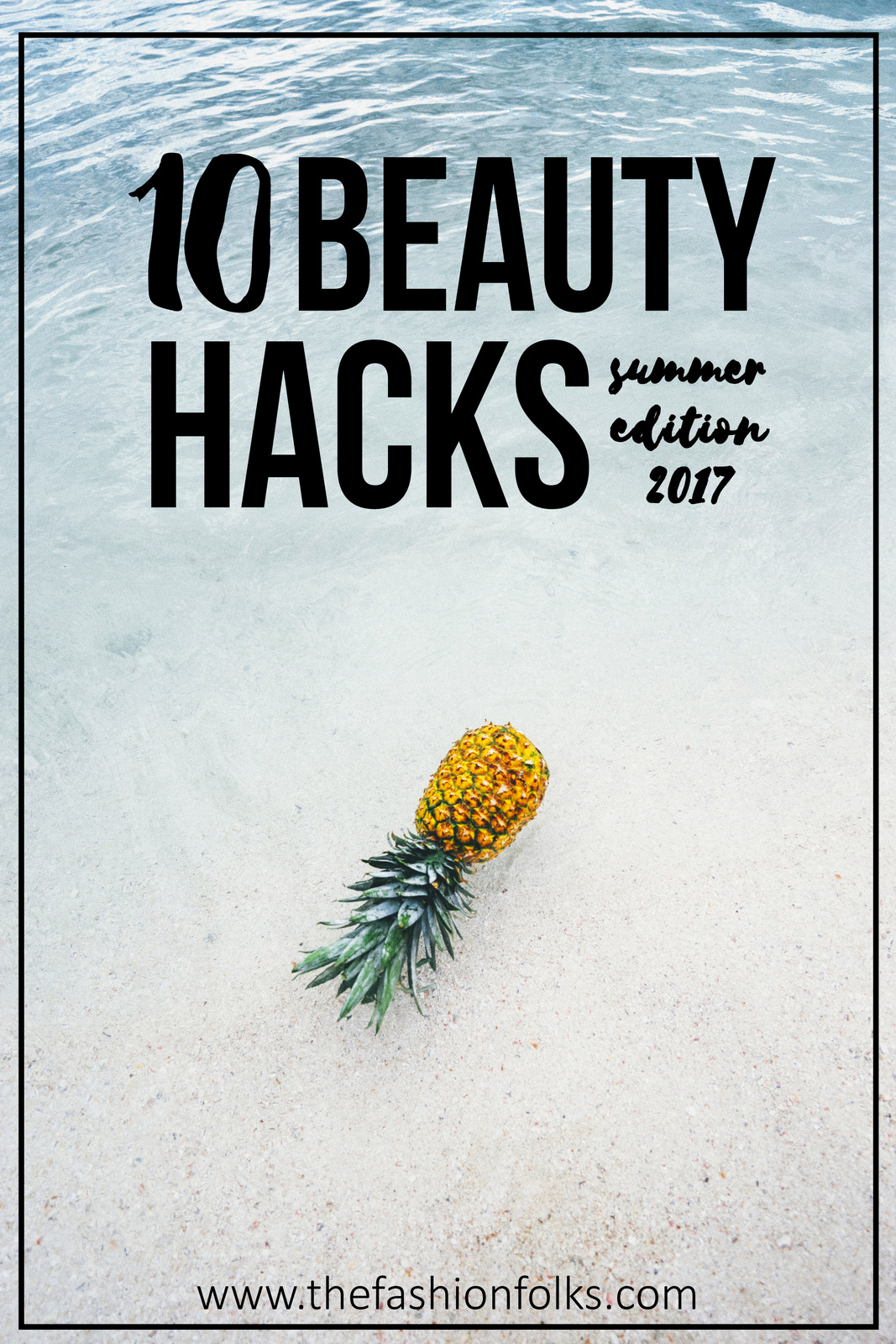 Foolproof Beach Waves
Fine, beach waves might be the most popular hair look on IG (like, ever), but they're inevitably chic and perfect to do for summer too. The foolproof, natural, not harmful, way of doing them is to braid your hair loosely when it's wet. Let the hair dry as braids and after a few hours you have some lovely waves! Be sure to not braid too tightly as you don't want it to take forever to dry! Finish with some spray to make them last.
Chapped Lips
Chapped lips are not only an issue of the winter months but quite common for summer too. Make sure to keep a lip balm with you on the go. If they still manage to get chapped, you can always go for a gentle scrub. Take some sugar and water, mix them two and scrub very gently on the lips. Add a moisturizing oil or lip balm right after.
Coconut Oil For Everything
I don't even need to point out that The Fashion Folks is also known as The Coconut Folks, it's a fact. Add the coconut oil to your dry skin, your dry hair, your dry lips or anywhere you need to moisturize. It also gives a nice glow and can sub for a highlighter. Read more here on the coconut oil!
Fresh Manicure
A sign of summer is what nail colors I choose to work. Love to feel energized by a popping color that adds the to the summer vibe. A pretty pink, a sunny yellow, mint blue or a bright orange will all do. Keeping the manicure fresh is perfect for going for the fashionable life too.
Makeup Free
This might not be a hack but more of a reminder: if you use makeup, the summer months are a lovely opportunity to let your face rest a bit. No need to add layers of foundation, powder, bronzer, contouring, highlighter and blush when you're going to the beach. Even though makeup is fun, not going for makeup all the time is necessary.
Protect The Hair
Another, "almost a beauty hack" is to remember to protect your hair/scalp. You're hair is highly affected by all the hours in the sun. So why not add the fashionable sun hat or tie a scarf? Or do a bun or a braid or any hairdo that will minimize the exposure?
Twice The Moisturize
First of all, cred to me for rhyming that title (*clapping hands emoji*). Moisturizing at least once a day is frequent in people's routines. But as the summer is a period of hot temperatures, you might want to do it twice. One time in the morning to have a good layer for the day (don't forget the SPF too) and one time in the evening as a "refill". Hot temperatures + a lot of sun requires some extra moisturizing love.
Long Lasting Lipstick
Adding some color to the face, as in a lipstick, is a lovely thing to do for summer. But a summer day is often filled with activities (mainly just eating ice cream tbh), so it's easy for the lipstick to fade quickly. Not to forget all the sweating. But instead of going for a lipstick, try to color your lips with a lip pen to get a better result. The look won't be as intense as a lipstick, but still add a natural touch and last longer! Go color pop for real.
Summer Shades
One way to add the summer feeling is to change your regular go-to colors in makeup for more summer-friendly ones. If you always go for a dark deep red lipstick, try a darker orange or pink instead. Your blush could be changed for a nice bronzer. Or you could change your blush to a more pink/orange and "awake" one!
Sunny Sunnies
Perhaps the most obvious hack of them all, but sunnies will help you on the sunniest of days. Not only are they fashionable, but highly functional in protecting the face/eyes/skin from the sun; at least parts of it. So add the sunnies as a statement of fashion but also protection.
Folks! Which one of the beauty hacks summer 2017 do you always do? Moisturizing? Fashionable sun hat? Drop a sentence or two in the comment section!
Did you like this post? Hit the share buttons below!